Prof. Ping XIAO, FIMMM, CEng
H-Index: 53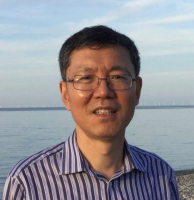 University of Manchester, United Kingdom
Position: Rolls-Royce/Royal Academy of Engineering Research Chair in Advanced Coating Technology, Department of Materials and Henry Royce Institute, University of Manchester, Manchester, United Kingdom

At the METAL´22 conference Prof. Ping Xiao will open the plenary session with lecture: Surface Engineering and Coatings for Aero-engine Applications.

Education and Career History
Prof. Ping Xiao joined University of Manchester, Materials Science Centre as a Lecturer in 2001, became Senior Lecturer in 2003, Reader in 2005, and Professor in 2008. Ping Xiao did his undergraduate and postgraduate study of Chemistry in Jilin University, P. R. China. He went to Oxford University to study Materials Science for DPhil since 1989, and became a postdoctoral research fellow in Oxford since 1993. In 1996, he joined Brunel University, London as a Lecturer and became Senior Lecturer in 2000.

Research Interests
Ping Xiao's research area covers three topics: 1) thermal barrier and environmental barrier coatings for aero-engine applications; 2) ceramics and ceramic coatings for nuclear industry applications; 3) coatings for electrochemical applications. The research focus is to examine degradation of coatings/layers in demanding environments, which involves characterisation of microstructure, mechanical property, and residual stresses in coatings. In addition, coating techniques are being developed to manufacture new coatings with enhanced performance for various applications.

Track Record
Prof. Ping Xiao currently holds the Rolls-Royce/Royal Academy of Engineering Research Chair in Advanced Coating Technology. Since the 1st of May 2020, he has been appointed Chair of Surface Engineering Division, Institute of Materials, Minerals and Mining, UK. He has nurtured many research links with industry, including Rolls-Royce plc, BP and Morgan Advanced Materials. His collaboration with Rolls-Royce plc, which has spanned a period of over 20 years, has been particularly strong. His research on understanding degradation of thermal barrier coatings has made significant contributions to the introduction of the thermal barrier coatings system into service in Rolls-Royce plc.
Prof. Xiao has published about 300 research papers in peer-reviewed journals, including a paper in Nature Communication (2017) and 20 papers in the prestigious Acta Materialia journal. His articles were twice highlighted on the front cover of Journal of the American Ceramic Society in 2017.
Prof. Xiao has made a significant effort in promoting the public understanding of science, including interviews with the Canada Business News Network (TV), The Economist, and British Airways Business Life Magazine. Ping Xiao is among the top 2% list of the most cited researchers in the world identified in a recent study by Stanford University published at PLOS Biology in 2020. https://static.asminternational.org/amp/202105/54/
Ping Xiao has been member of editorial board for Journal of European Ceramic Society; Journal of Nano-materials; Advances in Applied Ceramics; Journal of Ceramic Processing Research; Chinese Journal of Aeronautics and Astronautics and China Surface Engineering. He has been appointed as the UK representative by Ministry of Business, Energy and Industrial Strategy (BEIS), UK on ceramics to join the Generation IV nuclear reactor international Forum (GIF) since 2019. He became a Fellow of Institute of Materials, Mining and Minerals (IOM3) in 2005 and member of the IOM3 Coatings and Surface Treatment Committee in 2009.