Ing. Pavel KOLOŠ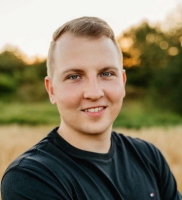 Honeywell Aerospace Olomouc Ltd., Czech Republic, EU
Position: Programme, Project and Budget Manager of engineering activities within EMEAI region at Honeywell International Ltd. - Aerospace division, Czech Republic. Assistant professor at the Department of Economics and Management, Moravian Business College Olomouc, Czech Republic.

At the METAL´22 conference Ing. Pavel Kološ will present the lecture at the Session F Economics and Management of Metallurgical Production.

Major experience of Pavel Kološ includes working in an aircraft Maintenance Repair & Overhaul (MRO) as Project & Customer Support Manager and in an aircraft engines production company as Project Engineer. He earned Lean Six Sigma Green Belt certification.
Competencies:
Program management (~ 3M USD): engineering program for EMEAI region (Program Momentum Factory Support) to cover engineering tasks within the region; budget management – Cost Account Manager role; STRAP & AOP preparation; regular communication with engineering managers and site leaders to discuss needs and set up priorities for engineering teams; escalations on higher levels; reporting.
Project management: EMEAI DMAIC Project Leader (continuous improvement – scrap, rework, material, past due reduction – approx. 1.5M USD saving/yearly); EMEAI Peloton Project Leader (Lead Time, Inventory and Labor reduction of top engine and APU programs – approx. 200k USD saving/yearly – f.e. 120 days reduced on 42 products in Q1&Q2 2021); Lean Management and Development; support of Insouring and NPI/NPD Projects; Automatization Projects (HON strategy support – robotization, roadmap).
Management Operating System (MOS) development: new ISC Engineering organisation people engagement; communication/information flow and cross-department collaboration in EMEAI; management tools (Momentum, DMAIC, Peloton Insourcing NPI/NPD); process description (Work Instruction, Guidelines); lean development; reporting systém.
Pavel Kološ is an assistant professor at the Department of Economics and Management, Moravian Business College Olomouc. He has responsibility for teaching Management, Strategic Management, Project Management, Logistic Management, Production Management.
His research focuses on strategic, project and lean management. He is involved in the IKAP project focusing on the entrepreneurship development of high school students.